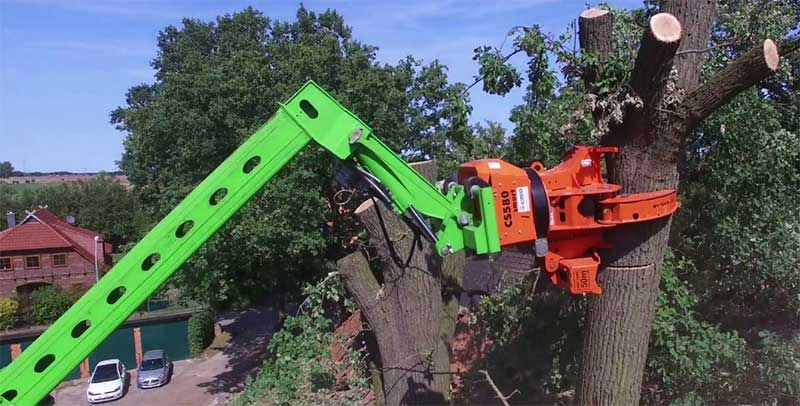 FAST. EFFICIENT. SAFE.
Neuheimer Tree Care is the only tree removal service in southern Ontario that has the capability to remove exceptionally large trees in dangerous situations with precision and safety, quickly and efficiently. The Merlo 40-30 by Westtech now allows us to remove even larger trees in even tighter spaces while maintaining our high level of safety for both people and property.
The Woodcracker Tree Handler allows us to maintain a firm grip on the tree during felling, manipulating the trunk with ease until it has safely reached the ground. There are no longer concerns regarding where the tree will fall or what it might hit on the way down. The grappling claw can hold a tree trunk up to 50 inches in diameter while the attached blade below cuts through as much as 22 inches at a time.
The telescopic arm can reach tree tops of almost 100 feet (30 meters) allowing for removal of much taller trees in potentially dangerous situations. Endlessly rotatable, the grappler can then be manipulated to set the removed tree portion exactly where we want it on the ground.
Large trunk removal with high gripping force
Removal of trees in tight spaces
Selective tree removal without damaging other trees or plant life
Lightweight vehicle will not damage driveways or infrastructure
Compact design – no larger than standard truck size
Removes trees more than 100 feet tall and 50″ in diameter
Faster, more efficient tree removal with increased safety