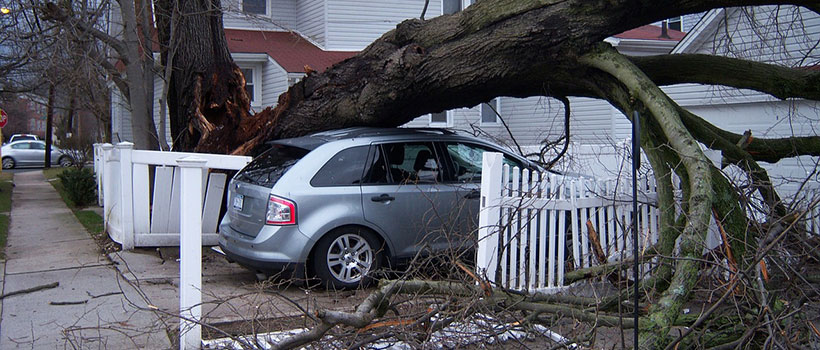 Unfortunately, we at Neuheimer Tree Care are all too familiar with the devastation that can be left after a violent storm. Storm Damage Cleanup has become one of our specialties not because we want it, but because it happens no matter how painful it might be. We understand that you need to deal with storm damage cleanup quickly so that you can move onto rebuilding, replacing, and dealing with insurance claims. Our arborists and tree removal personnel are respectful and efficient and will help you get back to your daily routine.
Storms and Other Destructive Forces

Although most downed trees and limbs are the result of violent storms, other conditions can also cause devastation to your trees and property.
Soil erosion
Ice storms
Dead / rotten trees
High winds
Flood damage
Lightning strike
Infestation (such as wood borers)
Wildlife (woodpeckers, beavers)
Car accidents / willful destruction
Protection From Further Damage
Removal of downed trees after a storm can be tricky business. Fallen trees are dead weight that can shift unexpectedly. We are experts at assessing downed trees prior to removal. Removing a downed tree may involve bracing and support to minimize further damage as we cut away branches and limbs. Because we are highly trained to deal with power lines, we take the necessary precautions to ensure that downed lines are dealt with properly. Care must also be taken to prevent damage to sewer and utility supply pipes, telephone cables, gas lines and infrastructure (curbs, sidewalks and roads).
Safety Professionals
When storm damage cleanup becomes a necessity, don't create even more damage by trying to perform the cleanup on your own or by hiring unlicensed labourers. Large trees can weigh several tonnes easily crushing buildings and vehicles. Even large limbs have the power to cause massive damage. Our staff is trained to deal with a potentially dangerous situation. We are fully insured and have the heavy equipment needed to deal with the aftermath.